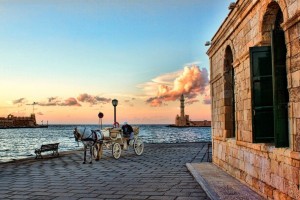 A half-day excursion will take place on Wednesday, June 8th (approx. 4-10pm). The city tour takes approximately 4 hours, includes a tour operator and two hours free time in the old port.
The city tour of Chania begins at the Venizelos Graves, where you have a breathtaking view of the city of Chania, the Venetian Harbor and the Lighthouse, as well as a magnificent view of the White Mountains (Lefka Ori).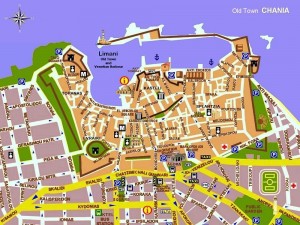 We will tour the 1886 square and the Town's City Hall, where we finally reach the magnificent crossed shaped building of the Municipal Market (Agora), where you find Souvenir shops, Bakeries, Traditional Craft shops, Herb shops, Mini markets and Grocery shops. Walking down Chalidon Street we will visit the Chania Archaeological Museum (features impressive collections including vases and post-Neolithic ceramics dating from 3.400-2.900 B.C. and the post Minoan era circa 1200 B.C. The exhibits from western Crete and other areas date from the Neolithic to the Roman era). Continuing our tour, we will admire the Turkish Hamam, the Cretan Folk Museum, Stivanadika Bootmakers Leather shops and many traditional Souvenir shops.
We will next visit the old Turkish neighborhood of Splanzia. Feel the history and the culture of the area, walking through the alleys of Hatzimichali Daliani Street and admire the St. Nickolas church, which was an old Domenicn Monastery with the distinguished Minaret. Admire the Venetian Naval architecture by looking at the remains of the old Venetian Ship yards (called Neoria), the great Arsenali, the Mosque of Kioutsouk Hasan, and the Lighthouse (est. 1595).
The cost of participation is 15 euros per person and includes transportation by bus and a tour guide.
Participants must download, complete and return the following order form before the deadline on April 08, 2016 at 09:00 GMT. The order form is available both in Word and PDF format.