see also: West Crete Beaches
Sightseeings in Municipality of Chania
The most famous and most photographed beaches on the island, known for their exotic water and majestic natural environment, are the heavenly lagoons of Balos at Gramvousa peninsula and Elafonissi, which lie in the southwestern edge of the island. Between them, lies the virgin beaches of ancient Falassarna. For those looking for seclusion, there is the hidden paradise of Kedrodasos and White Lake near Elafonissi and the African seascapes of Agiannis and Lavrakas on Gavdos island.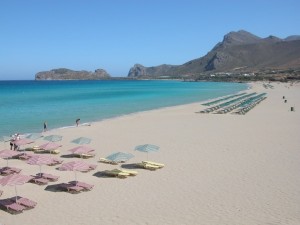 Falassarna Beach: The exotic beach of Falassarna is located 59km west of Chania and 17km west of Kissamos. Site of an ancient Dorian city. The little restaurant of Capetan Nikolas in the Falassarna port, is a must!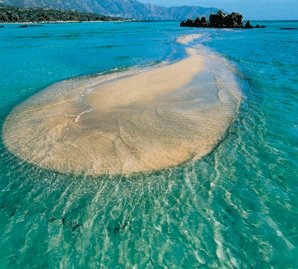 Chryssoskalitissa – Elafonisos: Chisoskalitisa is a nice little monastery, worth a stop on the way to Elafonissos, one of the two best beaches in Crete. Enjoy this exotically beautiful beach with crystal clear waters, where you can wade out to an island with sand dunes, and rose shell-sand.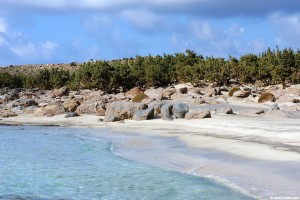 Kedrodasos Beach: Located 76km southwest of Chania and 1km east of the famous Elafonissi lagoon. The beach is filled with juniper trees and sanddunes, reminding of tropical Lebanese beaches. It is a wonderful choice for camping and a favorite beach for naturists. It is a very nice beach with white sand and some smooth and flat rocks in places.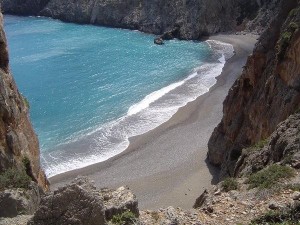 Paleochora: Paleochora is located 77 kilometres south of Chania in south-western Crete. The town of Paleochora is built on a long, narrow peninsula that stretches into the Libyan Sea on the south side of Crete, and offers, among other things, a different beach on either side: sandy to the west. pebbly to the east. Paleochora is a place of sparkling appeal with such an abundance of gifts that it's called the Bride of the Libyan Sea. Other beaches nearby: Anydri beaches, Keratides and Halikia, Pahia Ammos, Karavopetra Coves, Grammeno beaches, Koundoura beach, Krios, Viena.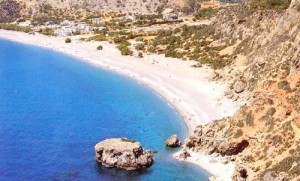 Sougia: Sougia is a small village located 75km west of Chania, at the exit of the beautiful Gorge of Agia Irini. A favorite destination for hippies in the 70s', today it is a perfect choice for peaceful holidays in a beautiful landscape with all the basic amenities provided. Other beaches nearby: Agios Kirikos-Lissos, Agios Antonios.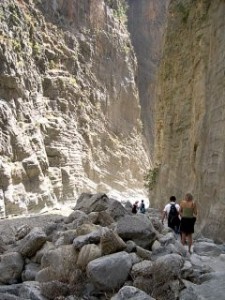 Samaria gorge: Europe's largest gorge (about 18 kilometers/11 miles) long and visit National Park, a protected area of unbelievable natural beauty. Rich with many endemic flowers and herbs with crystal clear spring water from the mountains, you only need to bring an empty bottle!

.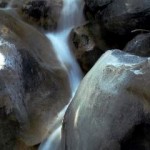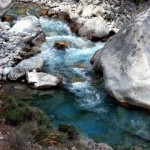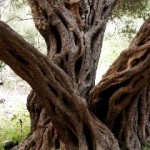 Average walking time is 4-6 hours. There will be time for swimming and lunch at Agia Roumeli beach, then a boat trip to Sougia or Chora Sfakion, where the coach is waiting for you at the harbor, ready to drive you back to the hotel.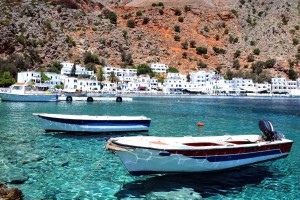 Loutro: A nice little village by the sea in the south coast between Aghia Roumeli and Sfakia. Accessible only by boat or walking (difficult path). It is believed that this was the site of the ancient city of Phoenix and was the ancient port of Anopolis. Later, it became a winter port for Chora Sfakion, due to the fact that the enclosed bay and the small island at its entrance create a natural harbor where ships can be safe even in very bad weather. Other beaches nearby: Finikas and Likos bays, Marmara beach.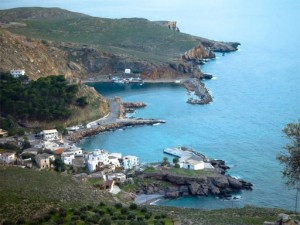 Chora Sfakion: Chora Sfakíon or Sfakia is a small town on the south coast of Chania. It is the capital of the remote and mountainous region of Sfakia, and is a small town of just 278 inhabitants (2001 census). It lies on the south coast near the end of the Imbros Gorge, 74km south of Chania. Except of its own beaches, there are more beaches nearby: Koutelos, Agios Charalambos, Iligas (kavi), Perivolakia and Timios Stavros.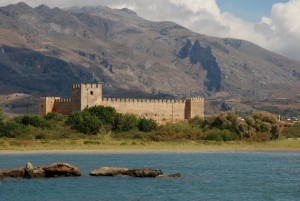 Fragokastello: Fragokastelo (ie the castle of the Franks) is one of the most famous beaches of Crete, famous for the local Venetian castle on the beautiful beach and the legendary ghosts of Drosoulites. It is located 13km east of Hora Sfakion, 80km southeast of Chania, in a small valley south of the White Mountains. Other beaches nearby: Lakki, Orthi Ammos, Vatalos beaches.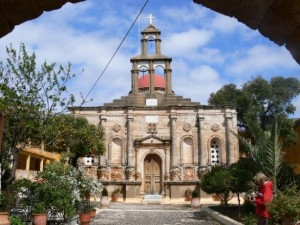 Monasteries of Gouvernetou and Aghia Triada: Two nice old monsteries in the Souda peninsula, meriting a visit. From the Goubernetou Monastery, there is a path that leads to the sea, making a nice two hour hike (one way). Aghia Triada produces top quality olive oil.

.